Loving Yourself: Self-Care Tips For Valentine's Day
Valentine's Day is quickly upon us and with My Guy living across the country, I will be embracing my tradition of pampering myself. I've had my fair share of single Valentine's Days and have many girlfriends in the same situation this year. But, that doesn't mean we have to sit back and let the holiday pass us by. Despite the love/hate relationship so many people have with Valentine's Day, I have always loved the holiday and have even been known to use it as an excuse for an impromptu "Treat Yourself Day." So this year, whether you're single, taken, or none of the above, I challenge you to embrace a new tradition that focuses on loving yourself. With that in mind, these are my top self-care tips for Valentine's Day.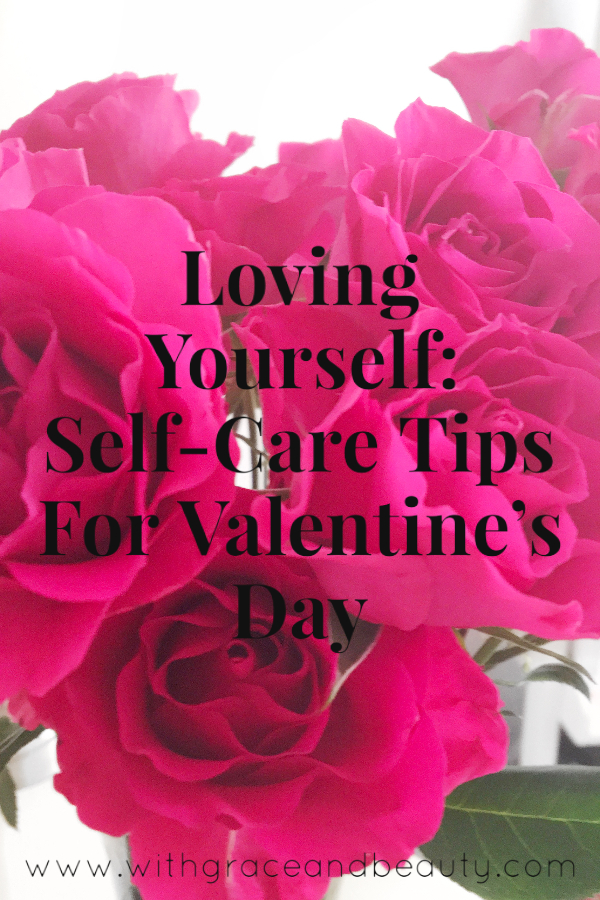 Treat Yourself to Dinner.
You may not be going to a fancy, romantic restaurant with a significant other, but that doesn't mean you can't order takeout from your favorite place. You definitely deserve to enjoy a night of not cooking or doing dishes. The trick is to plan ahead on ordering takeout to miss the busy hours when most couples eat out. Even better – grab a girlfriend and go for some tasty treats or drinks. That being said, if you do love cooking and enjoy the art of creating a meal – then cook at home. This day is about you and loving yourself. So, own that kitchen or rock that takeout counter!

Wear Something Comfy… or Sexy.
Do you booboo! This is your night, so if you wanna lounge around in sweats or walk around in heels, then go for it. Being confident is so important when it comes to loving yourself, so you have to dress for you. (Of course, if you are doing the long distance FaceTime thing then maybe you'll wear the heels temporarily and go right back to sweats afterwards haha.)
Have a Spa Night.
Take a bubble bath, do a face mask, or another treatment that you just never seem to have time for. Taking the time to relax is a great way to rejuvenate after being the hardworking woman you are everyday. My personal favorite is taking a salt bath and diffusing my favorite essential oils.
Do Something You Enjoy.
Think about something you love doing, but never seem to have time for. Or, maybe there's something you've wanted to try or start that you haven't gotten around to. This is a great day to do just that! For me, I plan to leave work on time to give myself a few extra hours to spend taking photos while it is still light outside.
Buy Yourself a Gift or Two.
If you're someone who will always look for any excuse to do some online shopping, then Valentine's Day is the perfect day to pull up Amazon Prime and treat yourself. You deserve it! Plus, if you buy the gift for yourself, at least you'll know you love it. (No awkward "oh you shouldn't have" situations here!)
Watch a Classic Chick Flick OR a Hysterical Comedy Film.
Whatever your preference, grab that takeout with your charcoal face mask on and find a movie you'll love. Maybe you want to embrace the holiday and watch people fall in love or maybe you want a good laugh. Bonus: You don't have to agree on a movie with a significant other. Girl, the choice is all yours! Either way, taking the time to just enjoy relaxing and watching a good film is a great way to unload the stress of the day and take care of yourself.
I know it can sometimes be hard to be alone on Valentine's Day, whether you're single or your valentine lives across the country/globe. But, changing your approach towards the holiday may be exactly what you need to remind yourself that ultimately loving yourself first is so much more important. I hope you found my top self-care tips for Valentine's Day helpful and you're day is filled with pampering, rejuvenating, and treating yourself.
Happy Valentine's Day Girlies!
♥ Jocelyn
In case you missed it, check out my last post, Travel Diary: Charleston!