Travel Diary: New York City
This year for my birthday, I wanted to do something different.  It isn't the biggest year to celebrate, but with big changes in my life and all the adulting recently, I figured WHY NOT! I've been there a couple times before (just for the day), but had such an amazing time celebrating in the city for a long weekend.  So, here is a glimpse at some of my favorites from my most recent trip – from my New York City travel diary to yours.

Where I Stayed:
Park Central Hotel.  This hotel is beautiful and just a few blocks from Central Park.  It is clean, decorated with a modern elegance, and definitely a more affordable option in the desirable area.  Obviously, there is a long list of hotels in NYC, but I really wanted to stay near Central Park. That definitely helped narrow done the list! I highly recommend checking this hotel out, if you're looking to stay in Midtown.
Where I Ate:
Sarabeth's.  After a long day of traveling, we were thrilled to have dinner at a place just a few blocks away from our hotel.  Across the street from Central Park, this restaurant is an excellent choice. From the atmosphere to their truffle fries. This is a definite one to go to again.
Tavern On The Green. All I wanted for my birthday was brunch in Central Park and that is exactly what I got and so much more! Set inside the greenery of the park, Tavern On The Green is like stepping back into history or honestly, a fairytale book.  From the doorman in the top hat, to the beautiful architecture and live band.  This restaurant is just magical.  Their food was delicious too! I had the Smoked Bacon & Scrambled Egg Flatbread and it was amazing! Honestly, there are not enough words to describe this spot, except that you have to go! We did their Weekend Brunch and I highly recommend it.  Not to mention, they surprised me with a sweet treat and birthday wishes! Yummmm.

Where I Ate (cont):
La Masseria.  Amazing Italian. The white-table cloth restaurant was the perfect spot for our last night in New York and a birthday dinner.  Their Ravioli Di Angelina and Gnocchi Al Taleggio E Radicchio were impeccable. And as someone who doesn't always love traditional pasta dishes – this was amazing!  Perfecto! The best part of the night I must say is when the staff brought a glass of vanilla gelato over and began singing Happy Birthday Signora! It was a memorable moment and the gelato was delicious.
What I Saw and Did:
Empire State Building.  This was my second time going to the 86th Floor Observation Deck, but what a difference going at night makes.  Looking over the city lights from high above is such an exceptional feeling.  There's just something about it, knowing how large the city is and seeing it just before midnight, so alive – truly a city that never sleeps.  As this was my parent's first time visiting NYC, I knew this was a must.   We could do the museums during a longer vacation, but this was the perfect way to start our weekend on the first night in NYC.
Fifth Avenue and Tiffany & Co. Am I the only one who loves window shopping and seeing all the luxury stores? No? Okay good. So many amazing shops! With my parent's anniversary around the corner and my birthday here and now, looking around Tiffany's was a great way to celebrate.  Just a little memento to remember the trip by.  I've visited the Flagship Store on a previous visit, but I definitely feel like it's a great place to visit for a page from New York City's history.   We weren't able to make time to go to the Blue Box Cafe for Breakfast at Tiffany's, but I highly recommend making your reservation there if your vacation allows it. Next time!
The Shops at Columbus Circle. Saturday morning. My birthday. Lots and lots of rain. Thankfully, we weren't too far from Columbus Circle and what was at first an attempt to catch a break from the rain ended up being a great place to check out.  From the Whole Foods store to the H&M upstairs, we ended up spending quite a bit of the morning shopping around until it was time to head over to Central Park for brunch.

What I Saw and Did (cont):
Central Park. By the time brunch was over, the rain had subsided and the sun was bright and shining.  I actually never had a real chance to see Central Park before this trip, but it was so much larger than I imagined.  We ended up walking around quite a bit to burn off all those delicious calories and got lost looking for Strawberry Fields, a memorial for John Lennon with the famous Imagine Mosaic.  Eventually we found it and made our loop back around towards the Plaza.  Later that night, after my birthday dinner, my mom proposed a Horse & Carriage Ride and I'm so thankful she did! It was such a blast relaxing, seeing Central Park and the city at night, hearing about the history and the rich and famous from our coachman.  It's something I didn't really imagine doing, but it's very fun & had I not been with my family – could be very romantic for any couples.
The Plaza. It's the Plaza! What is there to say. The beautiful Plaza hotel signifies so much to New York City, from the awe-dropping architecture and design to the famous logo all around.  The Plaza is beautiful.  We went down to the shops, which included bakeries, restaurants, and an Eloise store that would make almost any woman want to be a  little girl again.  The Plaza will definitely be a place we go again, perhaps Afternoon Tea or a girl's getaway.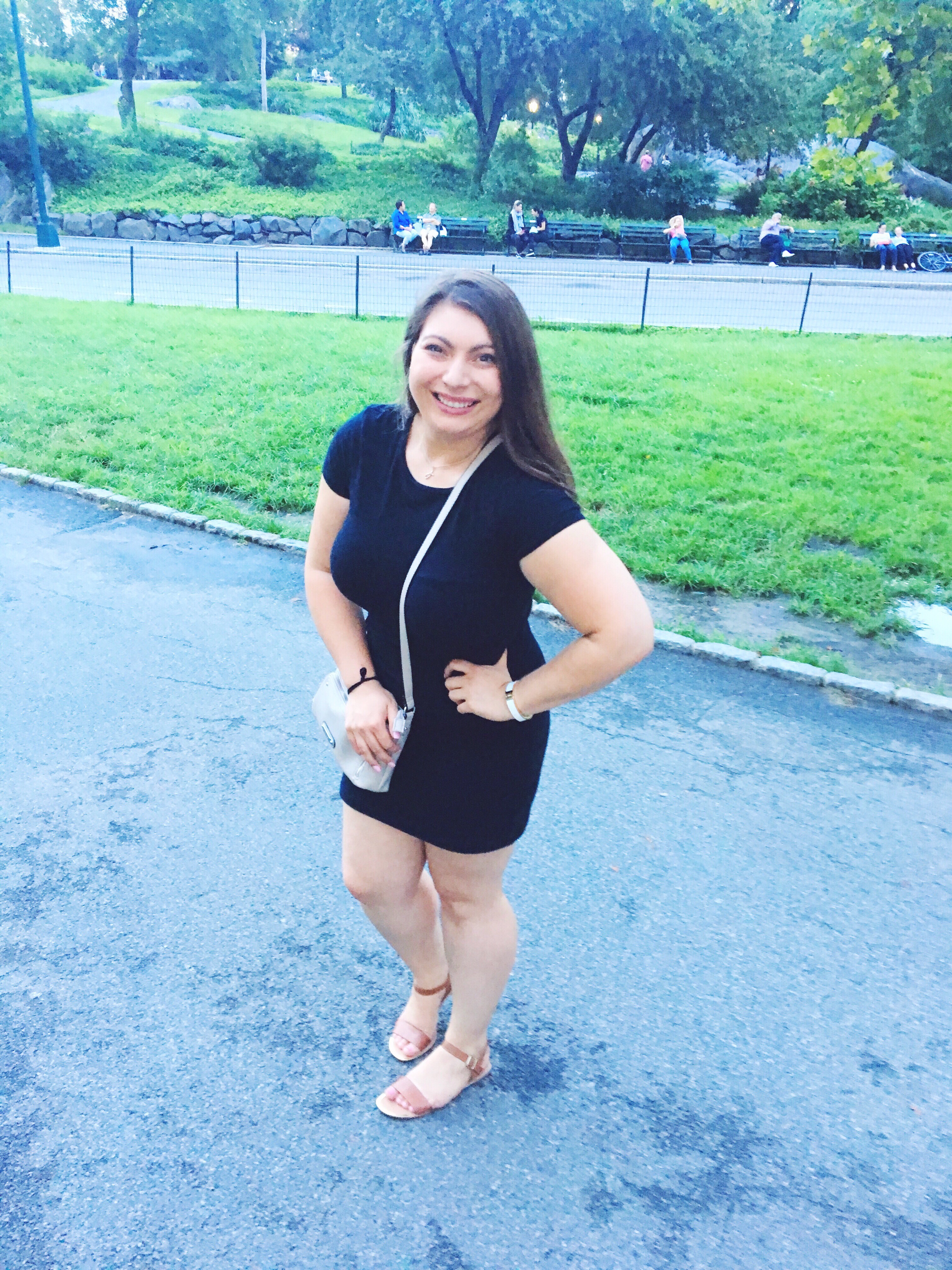 It is almost impossible to see New York City in one vacation, let alone a weekend trip.  But, these were my top highlights of my birthday weekend, in and around Midtown.  The list of amazing restaurants, hotels, and places to see is endless.  I hope this travel diary helps inspire your next visit to the city.  Happy Traveling!
♥ Jocelyn
In case you missed it, check out my last post, Finding Time for What You Love– making a plan and pursuing your passion!